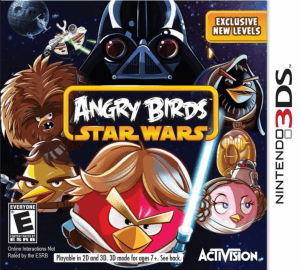 INTRODUCTION
Feathers are ruffled, slingshots are loaded, and the intergalactic war between birds and pigs rages on! Yep, you guessed it—we're talking about the iconic "Angry Birds Star Wars" video game for the 3DS. This time, the avian heroes are setting their sights on the planet Death Star, all in a valiant effort to rescue their royal feathered lady. The game retains its classic slingshot mechanic but with a Star Wars twist. So, grab your bird ammunition, perfect your aim, and get ready to bring down some piggies in space!
THE GAMEPLAY REMAINS FAITHFUL WITH A TWIST
For those living under a rock who don't know how the game works, here's the skinny: You use a slingshot to fling your birds, treating them as a projectile to aim at pig-built bases. The classic gameplay we've all come to love remains, but now, it's been transported into the Star Wars universe. That means your feathery rebels will don costumes resembling characters like Luke Skywalker and Princess Leia. Talk about ruffling feathers in style!
AIM SMARTLY OR BRING THE HOUSE DOWN
If marksmanship isn't your strong suit, don't worry. In "Angry Birds Star Wars," you have two options: aim directly at the criminal swine or their architectural masterpieces so debris takes them down. It's like the age-old question: Why shoot a pig when you can make a wall fall on it? There's a particular joy in toppling an enemy structure and watching it squash a pig or two. It's about strategy, not just brute force!
DIFFERENT BIRDS WITH UNIQUE ABILITIES
Variety is the spice of life, and this game takes it to a whole new level. Each bird in your arsenal comes with its unique abilities. So before you pull back that slingshot, ensure you understand what each birdie warrior can do. Knowing your birds' skills will give you the upper hand in the struggle against the pork side, whether splitting into multiple birds or exploding upon impact.
SCORING SYSTEM AND REPLAYABILITY
You might think it's just about flinging birds and demolishing pigs, but hold your horses—er, birds! Your performance is scored, and any unused birds are added to that score. So if you clear a level with birds to spare, those become points in your pocket. But if you unleash your entire feathery army and still fail to defeat all the pigs, go back to the drawing board! That's right, replay the level until you get it right. Practice makes perfect, and perfect makes bacon—well, virtual bacon.
LEVEL DESIGN THAT KEEPS YOU ON YOUR TOES
And just when you think you've gotten the hang of it, the pigs throw you a curveball. No two levels are the same; the enemy pigs vary their strategies and constructions at every stage. So don't expect to waltz through the game without flexing those brain muscles. You'll need to adapt, strategize, and sometimes rely on pure luck to get you through. You're not just a bird; you're a bird with a brain!
So, whether you're an "Angry Birds" fan or a newcomer eager to get in on the feathery action, "Angry Birds Star Wars" for 3DS offers a unique blend of skill, strategy, and luck, all wrapped up in a galaxy far, far away. May the feathers be with you!