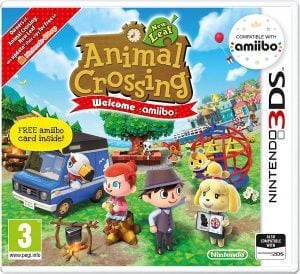 Animal Crossing: New Leaf
INTRODUCTION
Ah, so you're a fan of animals and dream of a utopia where humans and furballs live in perfect harmony, eh? Then brace yourself for a stroll down the alleys of "Animal Crossing: New Leaf"! Just imagine this—you step into this charming little town as a newbie, and bam! You're the mayor! Yep, you read that right. As the mistakenly anointed leader, you've got real power here, from fund-raising for communal projects to setting the town's ordinances. And don't worry; it's not all work and no play; you get to doll up, build your dream home, and have a social life that rivals any influencers.
HAIL TO THE CHIEF—BEING A MAYOR WITH STYLE
Firstly, let's talk about the serious business of running a town. Forget election campaigns and pesky voter ID laws; in this game, your constituents just assume you're the mayor, and that's that. You've got two main gigs—Public Works Projects and Ordinances. Public Works Projects is where you moonlight as a civil engineer, fund-raising and overseeing the construction of important stuff like bridges and streetlights. How do you ask? By shaking down—err, I mean kindly asking for donations from your fellow townspeople. Town Hall meetings were never this fun!
THE TOWN'S BYLAWS—IT'S ORDI-TIME!
Now, if you've always wanted to dabble in lawmaking without going to law school, here's your chance! Ordinances are your town's version of executive orders. You could, for instance, make everyone open their shops at the crack of dawn because you're an early riser. Talk about power-tripping! These Ordinances are not just whims; they can help your town prosper. Imagine a night owl ordinance that keeps the stores open late, guaranteeing your villagers' nocturnal shopping sprees.
MAKE IT RAIN WITH BELLS
Of course, what's a life, even in a virtual utopia, without a little personal investment? Bells serve as the currency in this world, and it's your ticket to retail therapy. Want to sport the latest fashion or decorate your virtual digs? Simply amass Bells by engaging in fishing, bug catching, or the classic "finders-keepers" with lost items. Essentially, it's like living in a delightful scavenger hunt that rewards you with the swankiest lifestyle upgrades.
TOWN LIFE AND SOCIAL BUTTERFLYING
Just because you're a busy mayor doesn't mean you can't have a social life. Mingle with your anthropomorphic neighbors, attend festivals, or just hang out and catch up on the latest gossip. Not all fur and feathers; these residents are chatty and have personalities that could give any reality TV show a run for its money. The interactions are as diverse as a season finale of "The Bachelor" and infinitely more entertaining.
WATCH THE CLOCK—IT'S REAL-TIME, BABY!
With a real-time system and a clock that mirrors our Earth time, you're never left wondering when you can or can't do things. Shop hours, festivals, and the changing seasons are perfectly synced with real life. Did you miss the summer festival? Well, you've got to wait an actual year! And let's not forget the angst of watching your favorite store close just as you reach it because time waits for no mayor.
VIRTUAL TOURISM—VISIT FRIENDS AND MINI-GAME ISLANDS
Last, this isn't a "me, myself, and I" experience. Using the Nintendo Network feature, you can hop over to your friends' towns for a visit. But if you're looking for a more exotic escapade, journey to Tortimer Island. There, you can get your game on with various mini-games ranging from treasure hunts to fishing tournaments. It's like the Olympics, but for people who want to earn their fun rather than break a sweat.
So, whether you're a control freak or a laissez-faire live-and-let-live type, "Animal Crossing: New Leaf" offers a quirky, charming experience that marries responsibility with ridiculousness. It's governance and fun, all rolled into one animal-tastic package!