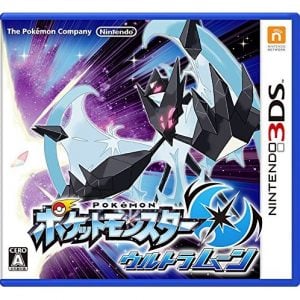 Pokémon Ultra Moon is an immersive genre game and is part of the seventh generation of the popular Pokémon series. First released on November 17, 2017, by Nintendo exclusively for 3DS consoles. This is also an enhanced version of the previous game, Pokémon Moon, in addition to a parallel version released on the same day as Pokémon Ultra Sun and a combined version of the two above. Shortly after its launch, the game received positive reviews from critics and captured the sympathy of the majority of fans, the most evident proof that the score was admirable from the prestigious magazines. Credit and sales are huge.
Pokémon Ultra Moon is set in the fictional Alola region inspired by beautiful Hawaii. The game opens with the scene where the main character controlled by the player is with his mother to settle here. One day, a player who is exploring a new home is spotted and rescued a resident of the region named Lillie, so the player is trusted by Kukui, the Pokémon professor in the region and given a starting Pokémon, from here on interesting stories have begun.
Similar to other games in the series, Pokémon Ultra Moon has a large map with many different environments, each where there will be specific Pokémon living there. In total, there are over 300 different types of Pokémon, including those that have appeared in previous generations and completely new ones, especially those with legendary and shiny Pokémon that players can catch and train with the Pokemons that you love.
In addition to features inherited from previous generations such as Mega Evolution, Pokémon Snap, etc. Pokémon Ultra Moon also has its own highlights that remind players of it, typically the Z-Moves feature, which allows players to perform only once in the battle, dramatically increasing the game's dramatic level. Another special thing is that the Ultra Moon version will have a clock 12 hours away from the Ultra Sun, i.e. when one version is daytime, the other version will be night and vice versa, a small detail. But it makes sense if you look at the names of the two games.
The graphics of the game are also extremely prominent with previous generations, but not enough to compare with games on other heavy equipment such as computers, PS4, etc. But it was enough to satisfy the fans. Now you also don't need to have a 3DS machine to play this game because there are emulator applications that allow you to play on many different devices.
Comments
nico991
Is there any 32 bit rom ?? it happens that in the winds pro the canary does not open me and only the citra 32 bits