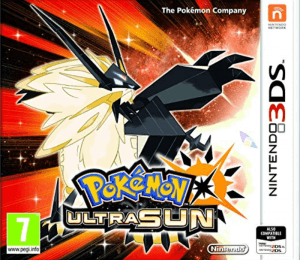 For those of you who are a long-time fan of the Pokémon game series, no one will ever feel strange about the name Pokémon Ultra Sun, which is also a part of the seventh generation of this long-standing series. Pokémon Ultra Sun was officially released by Nintendo on November 17, 2017, exclusively for 3DS consoles, similar to other Pokémon generations that usually release two versions in parallel with a slight change in terms of storyline. The content and the name are somewhat opposite, and this time it is called Pokémon Ultra Moon. There is also a premium version that includes the two versions combined.
The game takes place on a tropical archipelago called Alola, inspired by beautiful Hawaii with its typical beaches and trees. In the game, the player plays a young man from the Kanto region who is with his mother to settle on Melemele Island in Alola. Here the player encounters and rescues Lillie, a resident of the island, and so is given to a Pokémon by a local Pokémon professor, Kukui, who begins, and from here, new missions start. To complete the assigned tasks, players must adventure through the islands, confront fierce Pokémon, and confront the Skull minions. During the game, players will gradually reveal secrets hidden in the vast Alola region, eventually encountering the legendary Pokémon, a Cosmog named Nebby, with the ability to use the power of light.
To complete the plot of the game, you will not spend too much time, but to catch all Pokémon and complete Pokedex, the opposite. An extensive map system with corresponding types of Pokémon will appear in different environments, where players can adventure anywhere and catch the Pokémon they want with a total of more than 300 different types. With the graphics power of the 3DS machine, they are allowing Pokémon Sun to own advanced 3D graphics, making the effects more eye-catching and more realistic. Pokémon Sun also inherits outstanding features from previous generations such as Mega Evolution, Pokémon Refresh, etc. There is also a completely new mechanism called Z-Moves, which can only be used once in the battle that helps increase the tactics of the game, meaning that the fight becomes more intense.
Ever since its launch, Pokemon Ultra Sun has impressed both critics and gamers around the world. The evidence is extremely high scores in prestigious magazines, and the sales incredibly impressive. So far, the game has been around for a while, but its appeal doesn't seem to diminish, so a large number of gamers are still looking for it to experience.