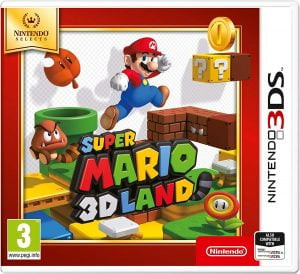 INTRODUCTION
In a fierce whirlwind of events, the iconic tree in Princess Peach's castle loses its magical leaves. These are Super Leaves without ordinary foliage, and their loss is a big deal. Mario and his mushroomy comrades, the Toads, set out to figure out the enigma. They find a photo of Bowser, who—surprise, surprise—has kidnapped Princess Peach again! Your quest, as Mario, involves rescuing the damsel, uncovering Bowser's nefarious plans, and navigating through jaw-dropping 3D landscapes laden with perils, traps, and a whole army of adversaries. Oh, did we mention the entire thing is in eye-popping 3D?
THE TANOOKI SUIT IS BACK, BABY!
Alright, let's get down to brass tacks. Remember the Tanooki suit? Of course you do. Well, it's making a grand comeback for the first time on the Nintendo 3DS! Use the bushy tail to whip your enemies into oblivion or gracefully float down from precarious heights. This fluffy outfit is more than just a fashion statement; it's your trusty Swiss Army knife navigating the 3D world. Don those adorable ears, and let the tail guide you!
FEEL THE DEPTH – IT'S IN 3D!
The 3D setting distinguishes this game from its predecessors. Finally, you'll know how far away that enticing question block is or how high you need to jump to reach the next platform. Baby, it's all about depth perception! You won't have to throw your console across the room in frustration. With 3D visuals, your leaps and bounds are much more measured, taking the uncertainty out of the game's iconic "jumping" component.
ROLLING AND TUMBLING – ALERT FOR NEW SKILLS!
Mario now has some new gymnastic techniques in his sleeve, as if running and jumping weren't enough. Have you ever heard of a plumber who can perform a rolling somersault? No? You're going to find out. This new maneuver adds a new level of fun to the game. It's no longer simply about conquering hurdles; it's about doing so with style!
THE CIRCLE PAD PROVIDES COMPLETE CONTROL.
The Circle Pad, oh, the Circle Pad! This handy little gadget provides unrivaled control as you guide Mario through delightful and rugged terrains. Instead of wrestling with clumsy controls, the Circle Pad makes every action smooth. Control is just a flick of the thumb away, whether you're avoiding fireballs or leaping across chasms.
WARNING! NEW ENEMIES ON THE WAY!
What would a Mario game be without many bizarre foes eager to ruin your day? And this version is no exception. We're talking about Goombas with tails and massive stacks of Goombas that appear to be part of some bizarre Goomba cheering squad. Then there's the Piranha Plant, which spits ink in your face, obscuring your eyesight and quest to save the princess. These adversaries bring a delicious annoyance that we've all grown to know and enjoy.
That's all there is to it! This game offers an intriguing experience that will keep you captivated, from its iconic Tanooki suit to its cutting-edge 3D visuals and dazzling new moves. There's something here for everyone, whether you're a seasoned Mario veteran or a newcomer discovering the delights of saving princesses from wicked turtles. So buckle up and prepare for a crazy adventure through Super Mario 3D Land!