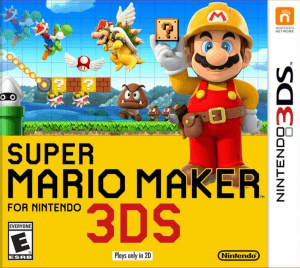 INTRODUCTION
Originally gracing Nintendo's Wii U console in 2015, Super Mario Maker hopped onto the 3DS platform, equipped with the same dazzling array of features that made its older sibling a hit. Designed around the iconic Super Mario universe, this gaming wonder allows you to craft your own levels and share them with a global community of Mario aficionados. Fear not, novices! The game has onboard tutorials led by the enigmatic Mary O. and the sage Yamamura. Whether it's manipulating classic traps or embarking on a quest to save Princess Peach across pre-configured worlds, this title has got you covered.
THE JOYS OF CUSTOMIZATION
Let's start by emphasizing the joy of creative freedom this game offers. What sets Super Mario Maker on 3DS apart from its predecessors is the unabashed liberty it grants to your imagination. Want to spice things up? Add flying Goombas by giving them wings. Feel like creating a labyrinth of doom? Pipes and hidden traps are at your disposal. You could even go the extra mile and super-size your enemies by handing them mushrooms. The world is your pixelated oyster, with countless possibilities for a personalized gaming experience.
MARY O. & YAMAMURA'S WISDOM: GUIDANCE FOR THE DAUNTED
Now, let's address the elephant—or should I say, the Goomba—in the room: "What if I have zero experience in game design?" Hey, don't worry! The game comes with a set of basic to advanced tutorials delivered by none other than Mary O. and Yamamura. These two virtual mentors guide you through the nooks and crannies of level design. From the placement of the blocks to understanding enemy movement patterns, they've got your back.
100 PRE-INSTALLED LEVELS? SAY NO MORE!
If you're more into gameplay and less into being the virtual architect, the game doesn't hold that against you. It has a treasure chest of 100 pre-installed levels across 19 different worlds. Your mission? The age-old task of rescuing Princess Peach, of course! These levels can be a great source of inspiration or a nostalgic trip down Mario Lane when you need a break from designing.
A FRIENDLIER GAME SCREEN FOR A CHANGE
The game knows that you're not a masochist. So, instead of making you pull your hair out over complicated setups, it starts you off with a user-friendly 10-grid screen. And if you're feeling adventurous, guess what? You can expand this grid up to a whopping 100! Moreover, if you lose a life while playing, the game saves you the agony of starting from square one.
AWARDS? PLEASE SAY YES!
If you're the type of player that enjoys showing their worth (or, should I say, 'medal'), you're in luck! Some unique stages have been created exclusively for you, to collect all of the coins sprinkled throughout. If you succeed, you'll receive a sparkling medal to add to your virtual trophy case.
Finally, Super Mario Maker for the 3DS is a flexible, engaging, and, most importantly, customizable game that appeals to rookie and experienced players. There's something for everyone, whether you like constructing your levels or protecting Princess Peach. From the ability to customize to the convenience of a guided introduction, this game raises the bar for what a gaming experience can be. So go ahead and unleash your imagination or simply marvel at the brilliance of others. Just remember to collect those medals!