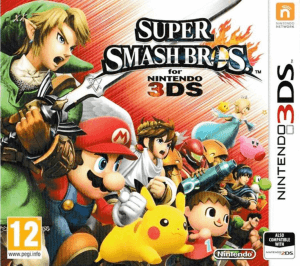 INTRODUCTION
Have you ever dreamed of watching Mario punch Sonic while Pikachu zaps Link with a lightning bolt? Welcome to the digital stadium known as "Super Smash Bros." for 3DS! Or let's call it Super Smash Bros. 4 because we're cool like that. This Nintendo offering gathers famous icons from Sega, Namco, and, of course, Nintendo and sets them up to brawl. Whether you're looking to unleash powerful "Final Smashes," call for backup using "Assist Trophies," or explore a labyrinth in the unique "Smash Run" mode, this game has got you covered. And with online multiplayer, the fun is as unlimited as the combos you can pull off.
A 3D EXPERIENCE THAT'S SMOOTHER THAN YOUR GRANDMA'S MASHED POTATOES
One of the hallmarks of this Nintendo 3DS iteration of the franchise is its buttery-smooth 3D gameplay. Operating at a staggering 60 frames per second, it offers a visual treat that's as smooth as video game silk! The game renders most of its components in stereoscopic 3D, ensuring that your fights aren't just fast-paced but visually splendid. So, if you need speed (and depth), this is your golden ticket to a genuinely three-dimensional battle arena.
SMASH RUN: WHO DOESN'T WANT TO PUNCH STUFF IN A MAZE?
Exclusive to the 3DS version of this iconic game, "Smash Run" adds an innovative layer to the already diverse gameplay. Imagine you're set loose in a sprawling maze, where your task is to go ham on various enemies. And "ham" means "unleash chaos in the most fun way possible." This is essentially what Smash Run offers; it equips your characters with unique abilities. But beware! These abilities are weight-dependent. Choose wisely, or risk being as ineffective as a screen door on a submarine.
FULL CUSTOMIZATION: BECAUSE IT'S YOUR PARTY AND YOU'LL FIGHT HOW YOU WANT TO
When you engage in multiplayer mayhem, the freedom to customize is akin to handing the kingdom the keys. You get to dictate the rules, the battlefield, and even the items that appear. So whether you want a Pokeball-only fest or fancy battling in the land of Hyrule, the choice is yours. The game doesn't just allow you to be the master of your domain; it encourages it.
CROSS-PLATFORM CONNECTIVITY: THE BEST OF BOTH WORLDS
So, you've got a friend who's a Wii U fan and stuck with a 3DS? No problemo! The 3DS and Wii U versions share gameplay mechanics, allowing for some form of mysterious cross-connectivity. Although the full details of this feature have been kept hush-hush, it's an intriguing option that promises to add another layer to the competitive fun. It's like having your cake and punching it too.
CUSTOMIZABLE MOVE SETS: UNLEASH YOUR INNER FIGHT CHOREOGRAPHER
In a groundbreaking move for the series, players can now modify their characters' move sets. Yep, you read that right. This applies to local and online multiplayer, ensuring that every fight is as unique as a snowflake—though admittedly, much more explosive. Additional details are still on the way, but this feature offers depth that can make every battle feel like your personal action movie.
So there you have it, the lowdown on "Super Smash Bros." for 3DS. With its blend of smooth 3D graphics, diverse gameplay modes, and extensive customization options, this game screams 'Pick me, pick me!' louder than a kid in a schoolyard dodgeball game. Don your favorite character's costume, power up, and let the fun begin!