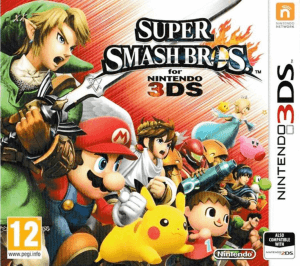 Or also known as Super Smash Bros. 4, as the parts before many familiar characters from Sega, Nintendo and Namco appeared in the same game, even fighting each other. Join the game, you will choose your favorite character to fight with other opponents, your task is to perform attacks and skills to knock opponents off the ring. To support combat will have some items appear, they can also be familiar items in the games you have played through. When picked up Smash Ball allows you to create an extremely powerful skill called "Final Smash", with each character will be able to create a unique attack. Other items that allow the character to call in additional friends in their main game to join in a battle called Assist Trophy. In addition to the main game mode, there is a new mode, Smash Run, where you will fight other enemies in a vast maze. Before each battle, you will equip your character with different powers to help the character has more HP or increase damage, etc. but they will be limited by the weight that the character can carry. The game also supports a multiplayer online mode, allowing players around the world to meet and challenge each other, the already fascinating matches now even more competitive.
KEY FEATURES
Smooth as silk 3D: The majority of the game's gameplay components will be rendered in stereoscopic 3D on the Nintendo 3DS version of the game, which will operate at a frame rate of sixty frames per second.
"Smash Run" is a brand new mode that can only be found in the Nintendo 3DS version of the game and is exclusive to that platform.
When playing with other people, players have complete freedom to customize the game in any way they see fit, including the rules, levels, and objects they use.
Get connected: Both the 3DS and Wii U versions of Super Smash Bros. will share gameplay mechanics that connect the two games. At a later time, further information on this matter will be made public.
Players now have the ability to customize their move sets while they are playing locally or online with their friends, marking a first for the series. Via the future, further details on this feature will be provided in announcements.