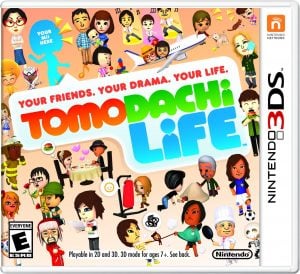 INTRODUCTION
Have you ever dreamt of a world where your next-door neighbor could be Taylor Swift, or you're the matchmaker extraordinaire for eccentric couples? Say hello to "Tomodachi Life" for the 3DS, also known globally by various names like "Tomodachi Collection: Shin Seikatsu" in Japan. Upon starting the game, you're whisked away to an unnamed island where your imagination reigns supreme. Your first tasks involve naming this Eden and crafting an avatar that might mirror you or your celebrity crush. But that's just the tip of the virtual iceberg!
YOUR PRIVATE ISLAND
In the game, you find yourself on an anonymous island, a blank canvas waiting for the strokes of your imagination. You're the Christopher Columbus of this brave, new, pixelated world! The first and arguably most exciting step is naming this idyllic haven. Will you go with "Paradise Point" or something wacky like "Isle of the Lonely Hearts"? The choice is yours, and it sets the tone for the diverse, quirky characters that will soon inhabit your island.
CUSTOMIZE UNTIL YOU CAN NOT ANYMORE
Now comes the customizing magic. If that appeals to you, you get to create an avatar that may be your lookalike or bore an uncanny similarity to Elon Musk. It's almost as if you're making a live, breathing Mii sculpture with only your imagination as a constraint. You can play puppet master in an astonishing digital life theater, controlling everything from hair color to personality qualities. Will your Mii be a loud party animal or a quiet introvert? Make your choice!
HOW TO DRESS AND FEED YOUR DIGITAL FAMILY
Your occupants, like actual people, have distinct likes and personalities. Some people like a racy leopard print dress, while others choose a more conservative pair of pants. But be warned: not all outfits are greeted with acclaim! A similar scenario is playing out in the gastronomy department. When you serve sushi, you can hear cheers or jeers. It's similar to running a digital bed and breakfast but more emotionally taxing. Oh, and don't forget the medication if someone gets the flu!
CONFLICTS, CARE, AND CURRENCY
It's not all sunshine and rainbows, folks. Occasionally, your islanders bicker, fight or need good old-fashioned emotional support. Your job? Play the ever-benevolent ruler and patch things up. The more you help, the more you receive in return, thanks to the game's virtual currency system. Think of it as a karmic boomerang where your good deeds get you the means to create more virtual happiness!
UNVEILING THE PIECE DE RESISTANCE
Ah, and now we get to the pièce de résistance! In "Tomodachi Life," you're not just a bystander but a potentate of destiny. You have the power to create characters and mold their lives. Yes, we're talking about matchmaking, marriages, and even baby-making! You can even replicate your real-life crush and live out your digital fantasies. Cupid's got nothing on you!
IMAGINATION WRAPPED IN PIXELS
With its 2D graphics, the game may not win any awards for visual complexity, but where it lacks pixels, it compensates through creativity. You have an entire world at your fingertips, waiting to be shaped by your whims and fancies. So, what's stopping you from diving into this digital utopia? It's time to make those fantasy relationships and celebrity neighbors a pixelated reality!
There you have it, the 411 on "Tomodachi Life," a game that throws realism out the window to give you a sandbox of pure, undiluted fun. And let's be honest: Who couldn't use more of that in today's world?