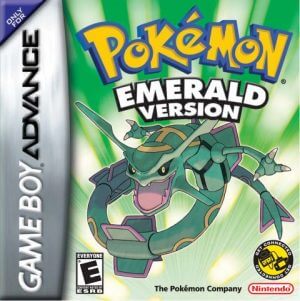 After the success of Pokemon Ruby and Sapphire, Nintendo continued to develop Pokemon Emerald game linking with the unfinished content. The game is set in the Hoenn region, revolving around an ambitious young Pokemon trainer. While traveling to the town of Littleroot, he met a boy from Petalburg who told him about his father and helped him get his first Pokemon, igniting the fire of his ambition to become a Pokemon trainer. However, the road to success is not easy because the front is extremely powerful enemies. After arriving in the town of Littleroot, he met two mysterious organizations, Team Magma, and Team Aqua. They are trying to change the world as their will by summoning two legendary Pokemon: Groudon and Kyogre. However, the power of these two mascots is so great that one of them refuses to obey the orders and start fighting. This wickedness has turned world peace upside-down as well as drought and floods are constantly happening. At that time, the young Pokemon trainer used his talent to summon the legendary Rayquaza Pokemon to prevent the war from destruction. However, this event opened up an area called Battle Frontier right here, at Littleroot!
In Pokemon Emerald, players will explore the areas of the town Littleroot, interact with other characters and get on the journey to get Pokemon. Maybe, you're wondering how to get Pokemon and win them? There are two ways, first, you can do quests, the system will provide Pokemon and a lot of other valuable items. Usually, it will be fighting with the trainers in the gyms and there are many levels for players to explore. When players overcome high levels, the rare Pokemon would appear, but it's not also easy at all to win. However, that is not the only way, players can explore the grasslands or caves. There are many wild Pokemon, just need to defeat them to be able to get them.
In terms of combat, Pokemon Emerald follows the turn-base style. Whenever fighting someone, a new scene is opened, including only the Pokemon of the player and the opponents. There are 4 options to use in a battle: Fight, Bag, Switch, and Run. Players choose "Fight" to damage enemies by Pokemon skills, "Bag" to use support items, "Switch" to switch to another Pokemon and Run to accept of being defeated and leave the match. Sometimes, "Run" is also quite helpful because players know that they couldn't win, leaving is a choice to avoid unnecessary damage.
Compared to the previous versions, Pokemon Emerald has added the Battle Frontier feature. In fact, it is an extension of Battle Tower in the previous one. The prize structure and the tournaments are scaled up with 6 new areas organized, attracting Pokemon coach masters. There are a few rules you need to know in Battle Frontier. First, to be able to participate in tournaments in Battle Frontier, players need to defeat Steven, the champion of Hoenn. Secondly, the battles in the tournament are quite strict, players can bring 3 Pokemon into battle, but only one is chosen to control, and also, players could not use the skill of baton pass or gust. Each battle takes 3 rounds, the winner of 2 rounds will take part in the next ones, the loser of 2 rounds will be disqualified, or pushed to lower ranks. Also, there's one more thing that I want to tell you. I visited the Weather Institute and talked to scientists. They said that players can now get two legendary Pokemon are Kyogre and Groudon.