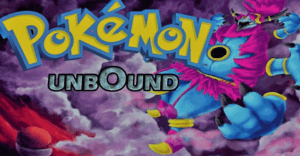 Pokemon Unbound (Pokemon Fire Red Hack) is a serious hacked version implemented by a hacker ROM with the nickname Skeli. Original Pokemon Fire Red, a talented hacker has created a completely new version with graphics, story, and features in the game that make it almost completely transformed, participating in the game to experience a completely new game, not seem to be a game remake an amateur. The story takes place in the Borius region, many years ago this land used to be at war with the neighboring land of Kalos. Thanks to a dark power that Borius lands won, since then this power has also been sealed. But now an evil organization called The Shadow is plotting to unleash its dark power once more and only you can stop it.
FEATURES
– Updated Graphics: All of the Fire Red graphics have been updated to Gen IV styled graphics. This includes tiles, overworlds, sprites, and even battle backgrounds.
– Updated Pokemon: All Pokemon from Gens 1-7 will be available in the game. The Fairy type is also present in the game. They will all have updated move sets and abilities to closely resemble the ones found in OR / AS or Sun and Moon. New evolution methods have also been added in order to closely resemble how the Pokemon truly evolve.
– Updated Mechanics: General improvements to gameplay to enhance the player's experience such as the Physical / Special split and Mega Evolution, as well as a BW – Repel system and X / Y capture experience.
– Eggs Hatch at Level 1
– Day and Night System
– Sideways Stairs
– Running Indoors
– Trainer Facing
– BW2 Repel System
– The Physical / Special Split
– Mega Evolution
– New HMs such as Rock Climb and Dive
– Hidden Grottoes
– Decapitalization
– IVs and Natures Highlighted
– XY Capture Experience System
– Inverse Battles
– And much more.
More information
https://www.pokecommunity.com/showthread.php?t=382178