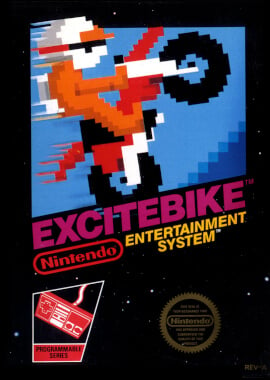 Excitebike
Console
NES
Publisher
Nintendo
Genre
Racing
Region
EU
Type
Fan Translation
Views
1,873
Downloads
1,335
Released
JP: November 30, 1984
USA: October 18, 1985
CAN: February 3, 1986
EU: September 1, 1986
Excitebike will bring simple and interesting races to everyone. With 3 game modes, players will be allowed to set up many outstanding achievements of their own. Three modes are available in the game, including option A, option B, and design mode. By selecting A, you will carry out the challenges of the game individually. As for Option B, you have to compete with AI to win. In design mode, you are allowed to create and build your own unique tracks.
Discover 2 modes are Option A and Option B, you must choose 1 of 5 tracks that the game offers to experience. In each race, you need to complete the challenge in the shortest time to win. Note, on the left of the screen will be displayed the minimum time that you need to pass to complete the challenge.
Besides completing the challenge in the required time. You also need to control the car intelligently. An energy bar arranged in the middle of the screen will show the engine temperature. When travelling at high speed, the engine temperature of the vehicle will increase. Overcoming the allowed temperature, your car will be standing still on the track for a short time. Therefore, you need to control the speed of movement to be able to complete the challenge in a short time and do not overload the engine of the vehicle. To reduce the engine temperature and maintain a stable movement speed, you can move through the support positions on the track (temperature reduction arrow).
To participate in each race, you have to overcome many different hills and gaps to complete the mission. When exploring the races at Option A, you can easily overcome obstacles as you do not have to compete with many other competitors. However, selecting B will bring you fierce races. You will have to compete with many opponents at the same time. Besides, you can be pushed off the track when competitors stabbed from behind. Therefore, you need to observe the track and agile reflexes to avoid attacks from other opponents. As for the design mode, you are allowed to freely build a race track with many different obstacles to challenge your ability to control agility. Design mode allows you to design a race with up to 9 different races. Depending on your entertainment needs, you can choose the number of laps you want.