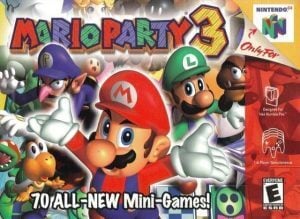 The name Mario Party is probably quite familiar, as it is one of the classic games used mostly for organizing fun when gathering with friends. Following the success of previous versions, Mario Party 3 continues to be developed and released by Hudson Soft and Nintendo, respectively. This third version is also the last version of the series to be released on Nintendo 64. The game belongs to the Party category, with many emphasized board games.
Only released one year later, compared to the previous version, however, this version still has quite a lot of points that have been renovated. The game retains 6/8 old characters from its predecessor. Instead, two new characters are Princess Daisy and Waluigi will be included. And the butler Toad has been replaced by the Millennium Star. Another new feature is that now, characters can take along with them 3 items, instead of just one.
Basically, the game has three modes at all, including Mini-game Mode, Story Mode, and Party Mode. The number presenting a variety of Mini-games has now been upgraded to 71, compared to the previous version is 65. These mini-games are categorized into 8 main branches, including 1P vs. 3P, 2P vs. 2P, 4P, Battle Minigame, Duel Minigame, Item Minigame, Game Guy's Minigame, and finally, is Rare Minigame.
Party Mode again includes Battle Royale and Duel Mode, with six boards for each. Battle Royale will organize the survival matches, while Duel Mode is the mode of a collaboration of you and one more player.
This game will still have Story Mode, in which players will have to pass through the plot the game has created on their own. The opponents in this mode will be AI-controlled characters. After completing all of the boards in Battle Royale, players will continue to be taken to the Duel ones. This order will be repeated a few more times but with more difficult levels, until the player has the Beauty Star Stamp on their Stamp Card.
However, no matter which board or mode, it seems that the main play style will still revolve around dice, collecting coins and stars. Those who find more stars and more money will win. Support items will also be able to be used and collected by buying or winning matches.
MARIO PARTY 3 is a diverse name with many different types of games, and it seems that they will last forever regardless of time.