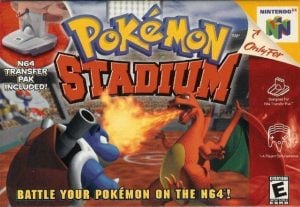 Pokémon Stadium is a game both developed and published by Nintendo. The game is a version designed exclusively for Nintendo 64 handheld devices, located in the Pokémon series, a renowned and relatively typical name from Japan. The game was designed and released in 3D. It revolves around battles with the main characters are Pokémon warriors with the number of up to 151 in all. All of these Pokemon have appeared in Pokémon Red, Pokémon Blue, and Pokémon Yellow if you are interested in games on the Game Boy brand.
Pokémon Stadium is not an RPG, so it doesn't have a clear story. It is all about battles on the field. The gameplay of this game is about turn-based combat.
Mainly in the game will be a tournament mode with 4 trophies looking for new owners. There are 80 matches in total on the field. So, getting these trophies is really not that simple. The opponents that players have got to overcome are not lightweight opponents. That is the professional coaches, who are the heads of the gyms at Gym Leader Castle. After all the missions have been completed, the player will continue to face Mewtwo. And after Mewtwo will be a Stadium, a Gym Leader Castle, and even a battle with another Mewtwo but on a harder level when AI will no longer hold back like in previous battles. Therefore, it can be said that the game is quite challenging. And players will certainly not be able to get rid of these battles easily. Picking a squad with six different Pokemon is what players need to do. However, only three Pokemon will be used at each turn. After winning, Pokemon can be converted into Pokémon Red, Pokémon Blue or Pokémon Yellow.
Besides, Pokémon Stadium supports multi-player mode with a large number of minigames, which is considered to be quite a lot compared to other games. Especially is the appearance of Game Boy Tower, for those who want to experience the fierce battles in the Game Boy system right on the Nintendo 64 device. In this mode, players will have to control the characters to fulfill unique goals in each different minigames, Sushi Go-Round: finding food; Snore War: lulling enemies; Clefairy Says: similar to the game Simon Says; Run, Rattatta, Run: revolves around races and more.