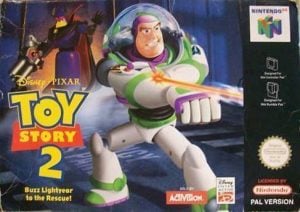 Surely the name Toy Story has become no stranger when it seems that everyone knows that, from children to adults. Continuing with the story of the toy world on the big screens are the games associated with it. Toy Story 2 is the next version of the opening version, Toy Story. The game has received a lot of acclaims, so it has also been remade with many versions for many different platforms. This version for the Nintendo 64 device was developed by Traveller's Tales and its publisher, Activision. The graphics of the game can be evaluated as very beautiful that it looks like a movie version. So I can boldly say that, by participating in this game, you will once again enjoy the story, but with a more special role, being the protagonist.
When thinking of the game, you probably would think of Woody, Buzz Lightyear, Bo Peep, Mr. Potato Head, Toy Dinosaur, and more. However, as the name implies, the main character you will have to control is Buzz Lightyear, while the other characters will be NPCs. And throughout the game, only a single-player mode is available. Unfortunately, the multiplayer mode is not noticed, and you can not switch to a second character, also.
The story of the game is quite similar to Toy Story 2 in the movie, in which Woody was kidnapped by Al McWhiggin, a toy businessman under the brand Al's Toy Barn. Of course, his friends wouldn't let him get stuck in such an end. The journey of Buzz Lightyear and his friends from here begins.
By joining this game, players will control Buzz Lightyear to participate in the actions to rescue Woody from Al's Toy Barn. The skills that Buzz can do are run, jump (single and double), push, attack (by laser, or by spin). There are a total of fifteen levels that players need to pass. In particular, three adjacent levels will be a zone and we have 5 zones in all. Each level will have Pizza Planet tokens that require players to collect. These tokens will be the key to lead Buzz to the next level. All the player needs to do to get them is to collect fifty gold coins, search for lost objects, perform races, solve the puzzles encountered, or destroy the mini-bosses.