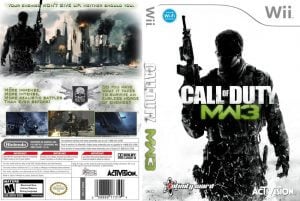 Call of Duty: Modern Warfare 3
Console
Nintendo Wii
Publisher
Activision
Genre
FPS
Region
EU , US
Views
17,264
Downloads
22,490
Released
8th Nov 2011 (USA)
11th Nov 2011 (UK/EU)
Introduction
In the gaming community, "Call of Duty: Modern Warfare 3" for Wii has become a household name. From violent combat to fascinating missions, this game has captivated viewers and etched its mark in gaming history. Let's look at some of the most popular features that have helped it become such a hit.
MULTIPLAYER MAYHEM
Friendships are formed and shattered in the multiplayer mode of "Call of Duty: Modern Warfare 3" for Wii. Players can challenge themselves and others with various game styles and maps. There's a spot for everyone, whether you're a sniper lurking in the shadows or a frontline warrior. Remember that in the game's community, teabagging is more than simply a flavor of tea; it's a means of saying welcome!
IMAGES AND GAMEPLAY
The graphics in "Call of Duty: Modern Warfare 3" are impressive for a Wii game if you still use snail mail. Fans love it because of the attention to detail, realistic scenery, and engaging gameplay. The title is Warfare, Modern Warfare, and it has style, action, and just the proper amount of explosion, precisely like James Bond!
THE CAMPAIGN: A REMARKABLE STORY
The single-player campaign features a story that immerses players in a world of military intrigue and action. The missions are enjoyable, and the plot keeps players on the edge of their seats. You can save the world before breakfast and still have time to quarrel with the AI about your tactical choices in this game!
CUSTOMIZATION AND DEVELOPMENT
What is your style? In "Call of Duty: Modern Warfare 3" for Wii, players can personalize their weapons, loadouts, and characters. Progression through the ranks and obtaining new equipment has never been more enjoyable. Warning: too much gaming may lead you to believe that getting a new weapon in real life is as simple as pressing a button!
CONTROLS FOR THE WII
Because of the Wii's unique control scheme, "Call of Duty: Modern Warfare 3" was played in a new and exciting way. The integration with the Wii system provides another dimension of excitement, whether swinging the Wii Remote as a melee attack or targeting with precision. It's as close to military training as most of us will ever get without leaving our living rooms!
SUPPORT AND COMMUNITY
Lastly, the game's community and support have been incredible. It's a game that continues to thrive, with regular updates, strategy forums, and a fan base that could practically fill a small nation. If you get stuck on a level, don't worry; there's probably a 12-year-old around who can help you. No gamer is left behind, thanks to the Call of Duty community!
Finally, "Call of Duty: Modern Warfare 3" for the Wii has remained an essential element of the gaming culture. Its fascinating multiplayer, riveting storyline, delightful graphics, and unrivaled community have all contributed to an unforgettable player experience worldwide. What are you waiting for if you haven't played it yet? Take hold of a controller, and may your aim be ever true!