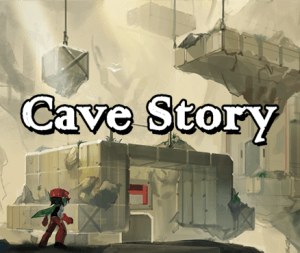 The Cave Story WiiWare edition is an updated version of the original game. The graphics have been upgraded to 480p quality, which sharpens the features, and the game now plays at 60 frames per second. The music has been remixed, and you can also activate the original piece. The in-game text has been updated with a new English translation. The game has three difficulty levels, each with its character variation. The Quote takes less damage on easy, and foes die faster. On the worst difficulty setting, no power-ups or missiles are available throughout the game. When the game is played on Christmas or Halloween, it features some seasonal material, such as new costumes.
Three new game modes may be unlocked:* Boss Rush mode pits Quote against all bosses in a row.
Curly Brace mode takes the place of Quote, with Curly as the main character. She is a female scout robot who can be encountered in the first story mode. There are no changes from the original game other than the new speech and cutscenes.
Sanctuary Time Attack is a time attack option for Sanctuary, one of the game's most challenging sequences. It has a lot of spikes and requires hovering to move swiftly, and QQuote can pick up weapons before approaching the area.