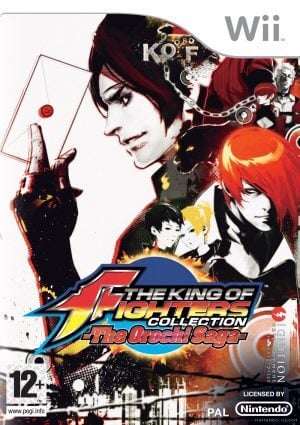 King of Fighters Collection: The Orochi Saga
INTRODUCTION
Prepare for a royal rumble as emulated iterations of the initial quintet of games from the renowned King of Fighters series are bundled together in "King of Fighters Collection: The Orochi Saga." The collection for the Wii isn't just a walk down the nostalgic arcade lane; it's a treasure trove, including the following games:
– The King of Fighters '94
– The King of Fighters '95
– The King of Fighters '96
– The King of Fighters '97
– The King of Fighters '98: Dream Match Never Ends
It even packs a Challenge mode, offering a chance to nab over two hundred more goodies like character art and sweet tunes from the game's legacy.
Now, let's unbox the collection, shall we?
GAME ROSTER OVERVIEW
The first paragraph is a trip back to where it all began. With classics such as "The King of Fighters '94" and culminating with "The King of Fighters '98: Dream Match Never Ends," this package is a time machine for fans. Each installment presents a different chapter, and the evolution of the gameplay mechanics, characters, and storylines provides a captivating historical tour through fighting game nostalgia.
CHALLENGE MODE: A CHALLENGER APPROACHES
Challenge mode isn't merely an afterthought in this collection; it's a battleground for true fans. With the possibility to gain over two hundred more items, including captivating artwork and music from the games, this mode offers endless replayability. Have you ever dreamt of having a gallery of your favorite King of Fighters characters on your Wii? Challenge mode turns that dream into a reality.
GRAPHICS AND ARTWORK
The graphics and artwork of this collection aren't just pixels and polygons; they're a vibrant canvas that paints a history. From the more retro appearance in "The King of Fighters '94" to the polished aesthetics of "The King of Fighters '98," the visuals provide a rich tapestry of the evolution in gaming art. And yes, pixelated fireballs have never looked so majestic!
MUSIC AND SOUNDTRACK
Are you even a fan if you're not whistling the theme tunes from these games after playing? The King of Fighters collection's music is an eargasmic compilation of tracks that could efficiently fuel your workout, study session, or "pretending to be a video game character while vacuuming" session. From rock to jazz, it's not just background noise; it's the heart and soul of the series.
GAMEPLAY MECHANICS
The gameplay mechanics aren't just about button-mashing; they're a delicate dance of skill, strategy, and sometimes sheer luck. From "The King of Fighters '94" with its more superficial roots to the more complex, refined "The King of Fighters '98," the progression showcases the brilliance of design in the series. It's a celebration of gaming innovation and why your thumbs are now super muscular.
A LEGACY OF CONTENT
Finally, its legacy makes "King of Fighters Collection: The Orochi Saga" a masterpiece. It's not just a game; it's a love letter to fans, a historical document, and a chance to kick digital butt in style. This collection proves that good things come in oversized packages, like over two hundred additional goodies. This collection is for you if you're a fan, a newbie, or someone who just loves to shout "Hadouken!" at inappropriate times.