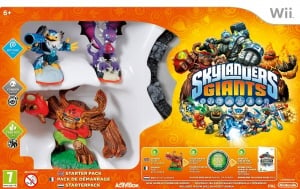 INTRODUCTION: THE SKYLANDERS ARE BACK, AND THEY'RE GIAN-TASTIC!
Hold on to your gaming hats and brace yourselves, folks! The sequel to "Spyro's Adventure," the whimsically named "Skylanders Giants," picks up right where we left off. Having already defeated Kaos, our heroes are teleported into an Earth toy store. They also stumble upon a gateway that zaps them back to when the Skylands were under the criminal rule of the robotic Arkeyans. Ah, the good old (or, should I say, bad news) days!
PORTAL YOUR WAY INTO THE GAME
So, what's the special sauce that makes this game tick? It's none other than the magical 'Portal,' an accessory that takes your real-life figures and pops them right into the game. The lineup features some good old faces, and guess what? A new roster of muscular heroes, including the massive Giants, has been introduced. You can interchange characters just by switching the figures on the portal. It's like Toy Story met Jumanji and decided to have a virtual baby.
THE NEW BIG DEAL FOR THE GIANTS
But let's not get too carried away and overlook the primary attraction—the Giants. As the name implies, they are enormous, up to double the size of conventional Skylanders. These giants have extraordinary powers, such as lifting and flinging heavy things like a shot put contestant. They're massive, strong, and ready to tear through the Skylands like no tomorrow. Aside from that, the Giants are incredible at parties since they can open a bag of chips like nobody's business.
LET'S DISCUSS LEVELS
The stages are constructed in the style of sophisticated puzzles, with a variety of opponents, breakable items, and delicious prizes. Things get interesting here: each level has objectives and a three-star grading system. It's similar to Yelp, except for Skylands explorers. Players receive access to a hub after completing the first level, where they may repeat stages to increase their scores and discover secret prizes. Completionists, be warned: you're in for a long haul.
EQUIPMENT, ENCRYPTION, AND EVOLUTION
The game presents riches that may be obtained along the way. These riches aren't just for show; they also include equipment that may change your character's appearance and skills. What's the best part? These modifications are stored to your actual figure! Use the exact figure in future games; your enhancements will be right there. It's as if your toy attended superhero school.
MULTIPLAYER MAGIC AND BUNDLES
Skylanders Giants introduces a new Battle mode, complete with new areas and alter-ego Skylanders for versus play, for those who love to beat their friends in a good old-fashioned duel. So, bring your A-game, or should I say, A-Skylander! Regarding what you get when you buy the game, the Starter Pack is a feast for fans. It includes a Portal of Power, three figures (Jet-Vac, Cynder, and Tree Rex), stickers, trading cards, and a flyer. Not to be outdone, the Portal Owners Pack offers just Tree Rex. Special editions like the legendary version of Jet-Vac and a glow-in-the-dark Cynder are also available because who doesn't love collectibles that double as nightlights?
So there you have it, folks! Skylanders Giants brings the fun, the muscle, and the collectibles. Whether you're a fan of the first game or new to the series, this sequel offers something giant for everyone!