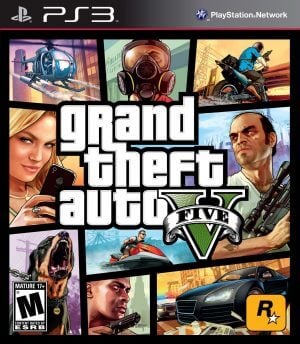 Grand Theft Auto V (GTA 5)
You can get GTA 5 for Android in Modded1
INTRODUCTION
Brace yourself as we dive into the world of "Grand Theft Auto V," Rockstar North's latest action-packed saga. Drawing its roots from the vibrant culture and diverse topography of California, or "San Andreas" in the game's universe, the game serves up a whole new level of escapism. With satire as its backbone, it takes a playful jab at societal norms, human behavior, and even global events. Every facet of the game has seen a facelift, making it one of the most beloved entries in the series.
EXPLORING DIVERSITY WITH A TRIO OF CHARACTERS
The magic of "Grand Theft Auto V" lies in its beautifully crafted characters: Michael, a reformed bank robber now under witness protection; Trevor, a mentally unstable retired military pilot; and Franklin, a young man hailing from the ghetto, working for an Armenian car dealer. Each character gives us a glimpse into different societal backdrops woven intricately into the game's narrative. The game's innovative design lets players flip between these characters at will, allowing you to absorb the heart of Los Santos's action and its enticing world.
VAST, DETAILED AND MESMERIZING WORLDS
One can't talk about the game without gushing over the expanse of the game world that "Grand Theft Auto V" offers. The sprawling metropolis of Los Santos and its diverse geography—encompassing mountains, deserts, cliffs, valleys, military bases, and even an underwater world of canyons and coral reefs—make for an immersive gaming experience. Crafted painstakingly with real-world data and countless exploratory expeditions, every element feels natural, whether pedestrian behavior or the city's vehicular landscape.
GAMEPLAY: MISSIONS, MINI-GAMES AND MORE
The allure of the game extends to the intricate missions and side quests. Whether it's a full-throttle bank robbery or an impromptu stealing at a local store, the game keeps you hooked. Adding flavor to the game's dynamics are the character-specific side quests which delve into their personal lives. Whether Michael's family troubles or Franklin's eccentric friends, each storyline adds layers to the characters, enriching the gaming experience. These mini-games like tennis, yoga, or golf are a fun departure from the high-adrenaline core gameplay.
VEHICLES AND SKILL DEVELOPMENT
"Grand Theft Auto V" boasts an impressive array of vehicles. The game has a car for every mood and mission, from bikes to jet skis and airplanes to helicopters. It also revamps the driving mechanics, which now resemble a racing game. The game doesn't stop there; it also offers character stat development, allowing players to master skills such as shooting and driving over time. And yes, how can we forget the "Ammu – Nation" weapon chain store and the significant role of melee skills in the game?
ECONOMICS, AUDIO-VISUALS, AND ONLINE GAMING
In an intriguing economic twist, the game allows players to earn and spend money on various items like clothes, cars, yachts, and even real estate. It even features a stock market! As for the graphics and sound, "Grand Theft Auto V" brings a sophisticated audio-visual experience with a dynamic soundtrack and an advanced engine rendering large game world areas with stunning shading and lighting. The game ditches photorealism for graphics that capture the essence of modern metropolis life in Los Santos. Additionally, the expansive multiplayer mode, "GTA Online," offers players a chance to level up by completing missions or engaging in minor challenges, making it a complete gaming experience.