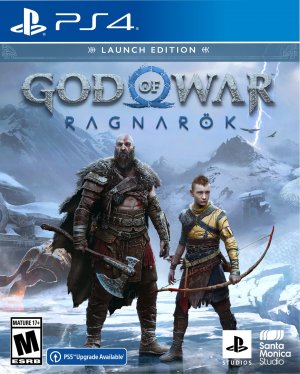 The highly anticipated follow-up to the award-winning video game God of War has arrived from Santa Monica Studio (2018). Before Ragnarok arrives, join Kratos and Atreus on a quest across mythology to find the answers you seek. As father and son make their way through each of the Nine Realms, they will need to risk everything they have to succeed.
As they travel through breathtaking legendary settings, their adversaries, who range from Norse gods to wild monsters, will become increasingly dangerous as they get closer to the battle of their lives. Kratos' lethal abilities will be tested as he battles to protect his family. He will be armed with his trusted weapons of war, such as the Leviathan Axe and the Blades of Chaos. In this sweeping and unflinching narrative, you can look forward to many new skills for him and Atreus, making way for fluid, expressive and fully customizable combat.
While everything is going on, Asgardian soldiers are gathering…
Source: PSN
Version: v1.00 Base, v2.00 Patch & DLC
Region: USA
Min FW: v9.00
Languages: English, French (France), Portuguese (Brazil), Spanish (Mexico), Arabic, Chinese (Simplified & Traditional), Croatian, Czech, Dutch, German, Greek, Hungarian, Italian, Japanese, Korean, Polish, Portuguese (Portugal), Russian, Thai, Turkish
Base Size: 84.3 GB (90,562,428,928 bytes)
Base MD5: D3CEC1B0C254D0D918B23293381B8469
Patch Size: 18.1 GB (19,527,106,560 bytes)
Patch MD5: CB13BDAC9866DFFB5B6CBF6846986500
DLC Size: 1.00 MB (1,048,576 bytes)
Supplier: FUGAZi
Keystone: Original
DLC?
– Digital Deluxe Pack
– Pre-order Pack
– After fighting a number of enemies, bosses, meeting characters, eventualy you will meet with
SINDRI character at your home.
– Follow him to his brother's house, to blacksmith Brok. Once you finish crafting Armor pieces
and Shields, exit the options and on the right open the chest with some goodies.
– Walk away from the Brok and table and this will trigger the DLC ITEMS unlock.
– Enter options with TOUCHPAD and there you will find all DLC ITEMS ready to equip.