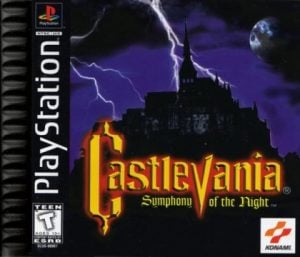 Castlevania – Symphony Of The Night (Akumajou Dracula X – Gekka no Yasoukyoku)
Continuing the storyline of Castlevania: Rondo of Blood, Richter went missing 4 years later. Dracula was revived after being destroyed by Richter Belmont. Alucard went to the demon castle and met Maria Renard, who stopped Alucard from knowing that Richter Belmont was being controlled by a supernatural force. In addition, she wanted Alucard to give the Bible to Richter. Maria Renard then showed Alucard many illusions in the past. Alucard agreed to return the Bible to her to help Richter return. However, Richter's purpose is to use this bible to revive Dracula. A battle between the two happened and Alucard was the winner. Some of Dracula's henchmen have said he will revive and threaten humanity once again. This time, the player will control Alucard and make a journey to defeat Dracula and destroy his evil plan.
Players will start with breaking into the castle of Dracula. This castle has a huge area of ​​many floors and different rooms, players will have to explore the entire room to find Dracula. In each room, there will be monsters guarding and they need to be destroyed quickly. After defeating monsters and overcoming the pitfalls, you will collect many rewards such as weapons, support equipment, life gems … Using new weapons will help the character increase strength and ease. defeating enemies, life gems will help you recover the lost HP and have more plays. In addition, new equipment will help your character have some other special abilities and increase defensive stats. Destroying monsters will help your character level up and gain new skills. You need to constantly kill monsters to become stronger. Bosses also bring a lot of EXP points, but they are very strong and you will need a lot of time to kill.
Some hidden areas will need players to explore, you can attack some special terrain to open these hidden areas. In it, there will be clues for you to find Dracula and rare items. After gathering all the necessary information, you will easily pass through many different floors of the castle and reach the place where Dracula is hiding. The final battle will take place between the strongest warrior and the strongest devil. Using all special skills and destroying Boss in a short time is a reasonable choice. You will end the game by defeating Dracula and destroying the castle.