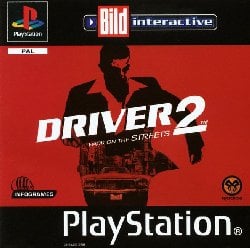 Driver 2: Back on the Streets
Driver 2: Back on the Streets is a speed racing game released for PlayStation by Reflections Interactive in 2002. At a small bar sale in Chicago, there were two men talking to each other: a man named Pink Lenny and a Brazilian man with a full-body tattoo. However, two thugs appeared and stormed into the bar and opened fire towards the two of them. Later, the Brazilian man was killed but Lenny was lucky to survive and escape successfully. The Brazilian man's body was taken to the morgue of the local police station. Two police officers, Tobias Jones, and John Tanner examined the man's body. They discovered the tattoo of this man as a symbol of a criminal organization in Brazil called Alvaro Vasquez. This shows that this man is working for this criminal organization. Two police officers sent information to their superiors to be allowed to explore Lenny's involvement in recent events in Chicago.
Afterward, the two of them interrogated a witness at the scene of the shooting. This witness provided information to the police that Lenny had worked for money laundering for Solomon. He is a dangerous criminal operating in two cities Chicago and Las Vegas. After Lenny left Caine's gang and he made some deals with his biggest competitor, Vasquez. Two policemen followed one of Vasquez's henchmen and they found something moved from Cuba. Since Lenny is involved with both criminals Caine and Vasquez, they must catch Lenny before their gang is out of their control. They failed to stop Lenny from leaving the city and he took a train to Las Vegas. In this city, they will have to arrest witnesses and protect them from gangsters to destroy these criminal organizations.
In the game, the player will choose one of two characters, Tobias Jones and John Tanner, to control the witness car. The task of the player will be to drive the vehicle away from the chases of other cars. Players can attack these vehicles by crashing into them to knock them out of the street. If you want to pass a level, the player will have to go all the way chased to reach the next point. After passing all the levels of the game, players will win and destroy the criminal organization.