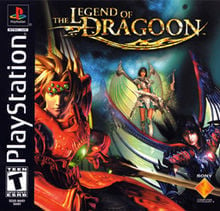 The Legend of Dragoon is one of the best games in the action and adventure genre. The game was produced by SCE Japan Studio and released on the playstation in 1999. With its unique gameplay and excellent graphics, The Legend of Dragoon has captured many emotions of fans and brought great success. for SCE Japan Studio. The proof is that the game quickly sold many million copies after only a few weeks of release. With a third perspective, the game has shown the performance in terms of images from the character to the context, all are described in a realistic way, providing an optimal experience for the player.
The game's setting revolves around Dart, a warrior on his way to find Neet, who murdered his family and destroyed his homeland. In the first part of the journey, Dart is attacked by a dangerous monster controlled by Sandora and saved by a mysterious woman named Rose. Dart finds out that his childhood friend Shana was taken away and set out to rescue her. After rescuing his childhood friend, Dart reached the Serdian castle. There, Dart and his team are hired by King Albert to protect Hoax from terrible attacks from Sandora. In the middle of the fierce battle, Dart used the Dragoon Spirit of Red-Eyed Dragon that he brought with him and accidentally gained the ability to transform into a Dragoon. This has changed the course of the war. The Dart triumphed and he learned a lot of interesting things by Diaz, the Emperor of the dragon kingdom. After Diaz's worries, great stories were revealed. Dart is the son of Diaz, who is tasked with ending the holy war between the dragon kingdom and the dark elf initiated by Rose. He is also the one who destroyed the homeland of Dart
The Legend of Dragoon possesses a unique style of play. The game applies the principle of play with the mechanism of using time alignment. There are four options for the character in each turn. In attack option, on the screen will appear two blue squares and converge over time. If the player presses the button during the two squares converging, the damage will be based on the perfection of those two squares. If two squares overlap, the damage will be up to the maximum. Players will need a little time to get used to this. Other options besides attack are defense, spell use and movement.