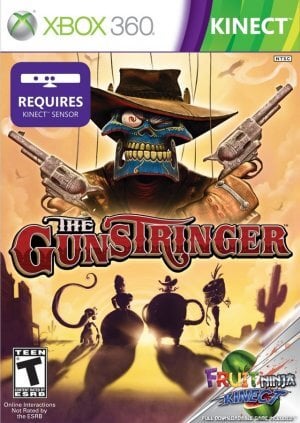 Theme and Story
The Gunstringer has no name other than the essential "Gunstringer." He's a skeletal marionette of a dead, betrayed cowboy out for vengeance on his old posse, who shot him dead and buried him in the desert. The Gunstringer battles a slew of radically imagined "Old West" stereotypes as seen through the eyes of a puppet-focused stage play, replete with a live-action audience (comprised of the Twisted Pixel production team and some special guests). A brothel madam, "Big Oil" tycoons, malevolent lumberjacks, a wavy balloon guy, frontier soldiers, frontier Indians, and transplanted samurais must all be faced and defeated by the Gunstringer.
Game characters include every type of imaginable puppet, including marionettes, "Muppet"-style puppets, simple paper people, and action figures. Stages and levels are all built and planned with a cardboard-and-paper aesthetic, with paper towel tubes for trees, cardboard boxes for buildings, and various other craft or office items (such as wall tacks) finding multiple uses.
A substantial amount of "Classic Old West" movie-style narration runs throughout the game, bringing an element of "old time/Old West" storytelling to the overall package.
Gameplay
The basic gameplay is similar to that of a rail shooter, with the distinction that, like an earlier Twisted Pixel product, Comic Jumper, The Gunstringer frequently varies the gameplay. The left hand physically moves the marionette across the game screen, dodging, jumping, and moving through various stage obstacles. The right hand is used to "swipe" over enemies to target them, then a flick of the wrist fires up to six bullets at up to six highlighted targets.
Straight platforming, punching segments, traditional rail shooting segments (without moving the Gunstringer himself), and side-scrolling components are frequently mixed in with vehicle-based details involving a riverboat, a rocket, a stagecoach, and the Gunstringer's trusty steed.
Extras
The Gunstringer has a plethora of unlockables, bonuses, and extras. Developer commentary for the courses, additional costumes, Hardcore mode, No Fail mode, and other gameplay-altering adjustments are all available to players. Aside from that, unlockable music tracks and films reveal behind-the-scenes making-of footage and funny "interviews" with industry developers like Epic's Cliff Bleszinski. Unlockables from the modern industry, such as concept art, are also available, as are "hidden" Achievements that may be purchased.
The Gunstringer's original shipments also featured a free download voucher for Fruit Ninja Kinect and the first free DLC, Wavy Tube Man Chronicles, starring Lloyd Kaufman of the notorious indie cinema company Troma.