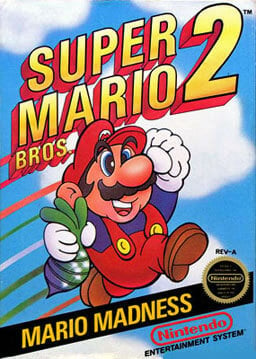 After the success of Super Mario Bros, the Nintendo manufacturer released the second version and it was named Super Mario Bros 2. It was released in 1988 in North America and in 1989 worldwide. Compared to the first version, this new version has been revised and no longer owns a multiplayer mode. Instead, people will discover single and use 4 different characters.
In addition to two familiar characters are Mario and Luigi in the previous version. Players will discover two new characters, Toad and Princess Peach. Each of them will get a different special ability. For example, Mario is the one with the longest jump ability and Princess Peach can float on the water. In addition, this game also allows the character to move in many new directions. Instead of moving from left to right following a certain rule. You can freely move the character left or right. Climb vertically at clouds, trees, waterfalls.
With being comfortable moving in many different directions. Players also discover a new fighting style. You don't need to jump into the air to kill monsters. You just need to pick up items available on the way to throw at monsters. Items that you can pick up and throw at enemies include vegetables, dynamite (POW) or you can lift enemies and throw them away to destroy.
In Super Mario Bros 2, there will be a new enemy for you to fight and defeat. He is Wart and he is the king of frogs. At the same time, Wart is the last boss you need to defeat to complete the game. He is ruling the land of Subcon and you are tasked with destroying this selfish tycoon to rescue the beautiful land.
To rescue Subcon from Wart control, you need to overcome 7 different worlds. And each world is designed according to 3 separate levels. However, the 7th world only has 2 levels for players to explore. Each world will have a boss, you need to defeat all 6 to reach the 7th world.
Besides collecting items to destroy monsters. You can also collect special potions to enter secret rooms. In secret rooms, you will collect coins to improve performance or collect mushrooms' power to develop character.