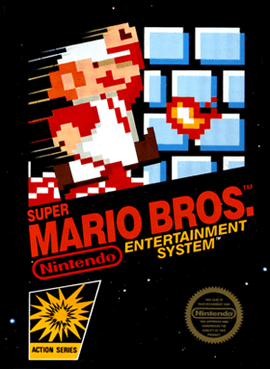 Join Super Mario Bros., you will enjoy many fascinating challenges and rescue the beautiful princess. The game will bring two characters for you to use and overcome attractive levels including Mario and Luigi. In it, you will control Mario in single-player mode and "Luigi" will be used in multiplayer mode. With these two attractive game modes, you can comfortably relax by yourself when you have free time or entertain with friends to have more fun.
The challenges of Super Mario Bros will not be too complicated and you can quickly get used to the gameplay in a short time. When experiencing the game, you will be challenged with many different levels. Each level will be sorted by each world for you to explore. There are a total of eight worlds for you to conquer. In addition, each world will bring its own interesting maps for you to relax. The map system will change with each level, which will bring many unexpected challenges for players. To complete the levels, you need to overcome obstacles or monsters that appear on the way. In particular, the end of each world will prepare "BOSS" for you to fight and defeat. Therefore, you need calm and skillful moves to destroy BOSS. Note, you can only explore and conquer new worlds after completing the current level.
In the process of overcoming obstacles and monsters stay on the way. You can collect many different support items to complete the levels with high scores. Successfully destroying each monster will help you get a certain number of bonus points. Kill more monsters, you will get more bonus points and get outstanding achievements.
To kill monsters, you just need to jump into the air and jump on their heads. In addition, you can kill monsters by collecting fire flowers hidden in the bricks on the map. Successfully collecting fire flowers will help either Mario or Luigi shoot bullets and defeat monsters from a distance.
Besides killing monsters to receive bonus points. You can also collect the coins on the way to accumulate more bonus points. In addition to the coins are arranged on the way to collect. The coins are also hidden inside the bricks. You can destroy many different bricks to collect coins and improve your achievement.