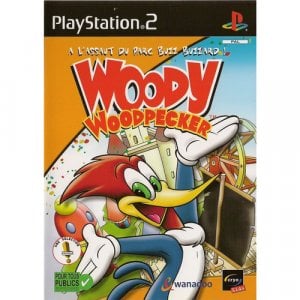 Woody Woodpecker: Escape from Buzz Buzzard Park
In the vein of other cartoon-based video games such as Bugs Bunny & Taz: Time Busters and Disney's Donald Duck: Goin' Quackers, the video game Woody Woodpecker: Escape from Buzz Buzzard places the well-known character Woody Woodpecker, along with his nephew Knothead and niece Splinter, in Buzz Buzzard's perilous "amusement" park. To begin, the player needs to assume the role of Woody and free the children from this strange park. These individuals become playable and can be directed through the remainder of the game's narrative.
The game is an action platformer in which the characters navigate levels rendered in 3D in a cartoonish style and consist of tunnels, platforms, and bridges. Extra lives are both hidden throughout the levels and can be acquired by playing the slot machines throughout the game. The stages feature a variety of hazards and traps in addition to some specific puzzle-solving challenges. The iconic beak Woody uses to defend himself against foes, climb wooden boxes, open doors, and activate switches can also be employed in these ways.