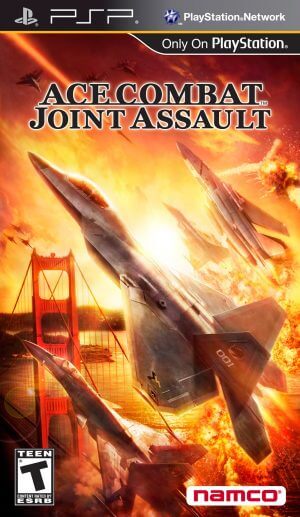 Ace Combat – Joint Assault
The newest game in the best air combat series is now available on the PSP system and has many unique, ground-breaking features. ACE COMBAT JOINT ASSAULT takes the PSP system to its limits with solid online gameplay, a campaign mode that lets players work together, a new strategic AI system, and more.
real-world scene
The game takes place in the skies over familiar real-world locations like Tokyo, London, San Francisco, and more for the first time in the series. Players will take on the roles of allied pilots and go on many new missions to destroy the enemy in fierce tactical dogfights.
Air battles got worse.
The new "Enhanced Combat View" system shows enemies and battles closer than ever before.
Feel the speed and intensity of battle at a whole new level!
Work together and compete in the world.
Infrastructure-supported wireless online CO-OP play for up to 4 players or VS battles for up to 8 players. In campaign mode, you can work together with up to 3 other people to finish all the missions. With the new Joint Assault Mission System, you can work on different maps simultaneously and change each other's tactical situations. This lets the assignments develop in different ways. In 8-player wireless online Vs. Mode, you can also show who is the best. It works with Ad hoc Parties!
Fly real licensed airplanes.
Jump into the cockpits of more than 40 state-of-the-art fighter planes and easily tear the sky apart.