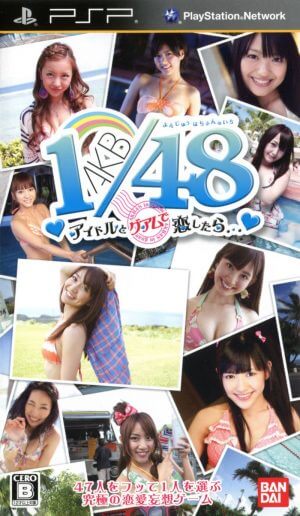 AKB1-48 – Idol to Guam de Koishitara…
Unlike the first game, AKB1/48: Idol to Koishitara…, which was launched a year before, this game is more of a dream in which all of the AKB48 idols are in love with you, but you can only choose and confess your love to one of them in the end. AKB48 (AKB is an acronym for Akihabara, a Tokyo electronic district) is a J-pop idol group comprised of; you got it, 48 members. Members change, and their popularity is determined by votes cast by the group's supporters. As the title suggests, the game takes place on the island of Guam, and idols will be seen wearing bikinis more often than in conventional attire.
Instead of anime visuals, the game essentially plays like a visual novel, with real-life settings and actual idols in various stances overlaid on the background image. The environment isn't the only thing that differs from the original game. This game includes new postures, photo shoots with different attire (the more revealing variety), and re-recorded voice-acting by AKB48 members for the new scenario. The game advances one day at a time when you spend time with one of the idols, either on a date or in casual conversation. The player is given a list of letters from AKB48 girls and their profiles. You can respond to the message based on who sent it to you, eventually leading to a date with that individual. You can call the individual of interest and arrange a meeting. During the date, which functions as a visual novel, you can choose a dialogue option to reveal the girl you're with, whether you're rude, indifferent, or like her. This may lead her to call you again at the next day's start. Some correspondence occurred irregularly when the female enjoyed how she felt on past dates with you.
Similarly, the addresses of the girls you were disrespectful to will be removed from the list until only one remains. At first, all 48 girls are offered as potential girlfriends for you, and idols will wear a particular bikini and pose just for you during specific escort event scenarios. During visual novel gaming, any event scene allows you to toggle off on-screen text and zoom in and out.
You may access various unlockables from the menu, such as graphic cards, event sceneries, and steel photographs, while collected cards can be swapped with other players. The AKB48 soundtrack does not need to be unlocked and may be heard using the BGM player, and it also allows the player to choose the default BGM tune and theme song for each of the ABK48 members.
The first print retail edition includes a photo of one of the AKB48 members (chosen randomly from a set of 48).