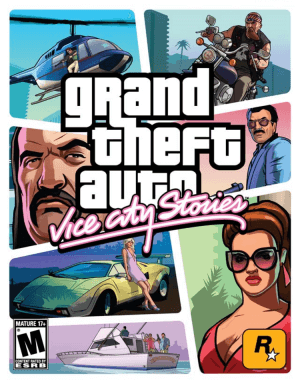 Grand Theft Auto – Vice City Stories
Vice City Stories is the sequel to Grand Theft Auto: Liberty City Stories and a prelude to Grand Theft Auto: Vice City (2 years earlier). Players assume the role of Vic Vance, an army man who loves his nation, family, and himself in 1984. One wrong decision changes everything, and he finds himself on the streets of a dangerous city. To survive, he must construct an empire or be left to perish. The siblings attempt to take over Vice City with the help of his drug-addicted brother Lance.
Like in previous GTA titles, the gameplay involves third-person shooting and driving scenes in an open area. You will encounter both new and familiar opponents and gangs. The missions ask you to kill using a variety of weapons, steal vehicles such as a car, boat, or plane, rob for profit, or simply for fun. Swimming and side missions such as Air Rescue, Vigilante, Firefighter, and Paramedic are new additions to the portable edition.
This game contains an Empire mode, similar to the gang conflicts in San Andreas. It would be best to take over other gangs' businesses to generate money. By attacking and injuring competing firms, they will be put up for sale, and you will be able to buy them. After constructing a new structure, you can engage in an activity such as prostitution, narcotics, a protection racket, smuggling, robbery, or working as a loan shark. These activities generate revenue, which is influenced by their location in the city.
Multiplayer over Wi-Fi is supported, with ten various game modes centering on combat (Vice City Survivor), businesses (Empire Takedown), racing (Street Rage), stealing/selling (Grand Theft Auto), capture the flag game types, or games centered around a single vehicle such as a tank.