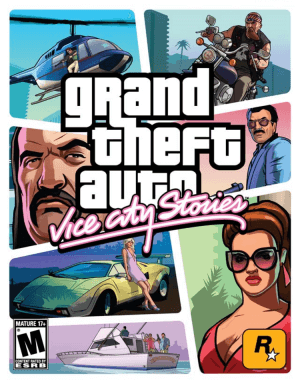 Grand Theft Auto – Vice City Stories
The Vince City of the 1984s was a city of turmoil due to the power disputes of underground drug cartels. They built their own empire with crime and betrayal. Vic Vance – a patriotic soldier who simply wanted to live and protect his loved ones but was pushed by society and bad people, making him fall into a dead end. Vic is forced to face harsh choices. Build your own empire or be crushed.
The protagonist used to be a sergeant but was entangled in prison for allegedly using drugs at home. After a period of bidding, he worked for Phill Cassidy and performed his first murder mission. The victim is Marty William – the brother-in-law of Phill, who abuses his wife Lousie and his daughter. Unexpectedly, this event brought a major turning point in the life of the assassin himself. Vic changes marry Lousie and begin to take over Marty's empire. Not long after, when the dispute between the forces became more intense, Lousie was kidnapped. With his brother – Lance, they planned to rescue his wife and end all conflicts.
The game has basic gameplay and gives players an open environment. Here the player's character has the ability to walk, run, swim and jump, pick and use weapons to duel. Players can also steal and drive a variety of vehicles to move. You will get navigational tasks, and provide information about the plot needed to unlock certain areas and content. As mentioned, the environment really open and this is not mandatory. Play your own way, and discover the hidden things behind Vince city.
In addition, there is another humanistic aspect integrated into this release. You can do some work as a taxi driver, take passengers to get more money, become a firefighter to put out the fire, take the injured to the hospital. Of course including the prevention and fight with criminals. Armed with these, are a few weapons along with conventional punching and kicking techniques. Of course, there will be some small rewards in return for good work. One of the key elements of the game is the "empire building", similar to what the story mentioned earlier. Of course, it needs money to maintain and cannot make odd numbers from the work of a taxi driver or firefighter. Please open and operate various businesses in the city, based on appropriation from the enemy gang.