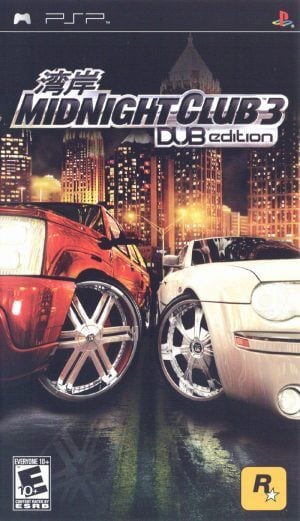 Midnight Club 3 – DUB Edition
Becoming a professional racer was his dream during his teenage years. Then, thanks to the help of Oscar – a famous mechanic in San Diego, he started by winning the rivals in the San Diego tournament. He met Vince later – a mechanic from Detroit that helps him a lot. Through dramatic races and bloody lessons, he has gradually proven his ability on the road to becoming a professional racer, sweeping out the tournament in North America.
It said that Midnight Club 3: Dub Edition is an open world racing video game, also the first game in the series that include advanced features such as car modification, visuals, and performance. There are five race categories to explore: Race Ordered, Circuit Race, Unordered Race, Autacer Race, Track, and Frenzy. The player's task is to drive across the city past the destination marked with orange-yellow flares. If you win, you can unlock new and customized cars, such as performance enhancements, new vinyl, fresh paint, or physical modifications by changing parts. These include wheels, spoilers, neon, hood, and engine components. Of course, the level of efficiency brought will visually impact by the status bar.
Many vehicles allow players to choose and divided into four classes: D, C, B, and A depending on their horsepower, which is permitted to participate in some special events. A new feature is that in addition to the three cities as in the previous section, this part of Tokyo has been added, utterly separate from the primary career mode. Aside from the longer races, most activities are similar to the other three cities. About the aesthetic, I think it is like they copied any city and stuck Japanese signs on it, a bit different from the actual roads. Perhaps the most exciting part is the " Race editor " mode that allows the player to create a road, set checkpoints, and arbitrarily change other conditions such as traffic, time, etc. weather and time. When participating in unordered order, players are free to go through any scattered checkpoints to finish the track as quickly as possible. Also, the online mode can compete with players from around the world and join available clubs and chat together.