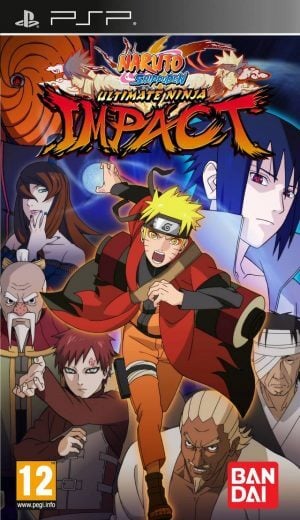 Naruto Shippuden – Ultimate Ninja Impact
After 3 years of hidden practice, Naruto returned to Konoha to meet his close friends and teammates. But at the same time, a major incident happened, when Sasuke – Naruto's teammate and close friend betrayed him to join Orochimaru. They are plotting a dark scheme to bring death to the whole world. Before this emergency situation, a young man possesses a nine-tailed fox spirit proposed plan called Ultimate Road with hopes to fight the dark conspiracy is about to arrive. This has brought the hopes of a peaceful world. It received the participation of the most powerful warriors in the village. And starting from here our blonde hero officially entered an extremely arduous journey.
At the beginning of the game, the player will incarnate into the Naruto character at a training location and start practicing his skills. The goal in this scene is for players to familiarize themselves with the techniques of flying, jumping, distracting themselves, using chakra or launching darts. Once completed, there will appear, opponents that need to be defeated, the dark ninja. Whenever starting a new game screen, a few short conversations with the NPC appear on the screen, indicating what his next task needs to be done. In the beginning, instructions will constantly appear to help you get through the round the easiest way. But don't worry, because they will disappear soon.
About the fight, the best part is the Chakra. Once fully charged, Naruto can use his ultimate or release energy orbs. However, it would take quite a while to wait, so it was primarily a bare-handed battle against normal enemies. And before stepping through the door to switch to the new level, the final boss appears to stop. They may be the teammates of the Konoha betrayal or the generals on Orochimaru's side. If you can win, you will receive the key to continue the journey, while receiving important items to help Naruto upgrade and unlock new skills.
Although the plot is not as detailed and perfect as what the film has shown, it has been optimized and added some cutscenes. Not to mention the organization of missions also very reasonable, frequently change and provide options for the player difficulty level selected. Of course, including interactive features, to give you a better overview of the obstacles ahead to face, as well as the development for the hero is immersive.